Vote NO on Measure A
There will be a vote for Woodside residents, on November 2 on a ballot initiative (Measure A) that will significantly affect the future of our Town. The fundamental question is whether we want to hold on to our rural environment, or become a tourist destination for outsiders.
●Should we allow the open space lot behind Roberts Hardware be bulldozed for parking and expansion of the Bakery restaurant?
●Should we build an amphitheater near Town hall to be used for commercial events like rock concerts?
Both of these proposals will significantly affect Woodside and provide few benefits. Read further for more information
For more information or to help with the effort to defeat Measure A or if you would like a yard sign, send an email to:
Questions, information or yard sign, contact Don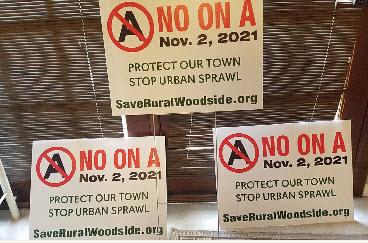 Why do we need more Outdoor Dining in Woodside?

●The proponents of the initiative claim that there is a need for "outdoor dining" but this is not true. The Bakery today has an outdoor dining area in the back by the hardware store but it is often not full. The current outdoor dining setup is allowed only by an emergency COVID permit, which will run out soon. There are many other nearby outdoor dining options available to Woodside residents. Alice's, Alpine Inn, The Little Store, Madera, Parkside Grill, Restaurant 3000. So why clutter up already crowded downtown Woodside just to expand that feature?
●As discussed under the Use Permit section of this website, they are only allowed 70 seats during the day time hours. They are now using both the indoor and outdoor seating which vastly exceeds this limitation and is a violation of their Use Permit. All the extra patrons are causing the parking and traffic problems.
●Bacchus Management, owner of the Bakery is spending thousands of dollars to beguile voters to pass this initiative, so they can make more MONEY.

Map of proposed parking area behind Roberts Hardware
●This lot was dedicated to open space when the expansion to Roberts Hardware was allowed in 1979. Unfortunately the zoning map was not correctly modified to reflect this.
●Development would have a substantial effect on the neighboring homeowners.
●The existing Safe Routes to School and equestrian trail would have to be closed and relocated. This could affect the safety of children as they walk to and from school,
●Notice it would nearly double the size of the existing parking lot. Why do we need to encourage more tourists and outsiders?
●More parking means more cars creating more traffic and hassles for the residents.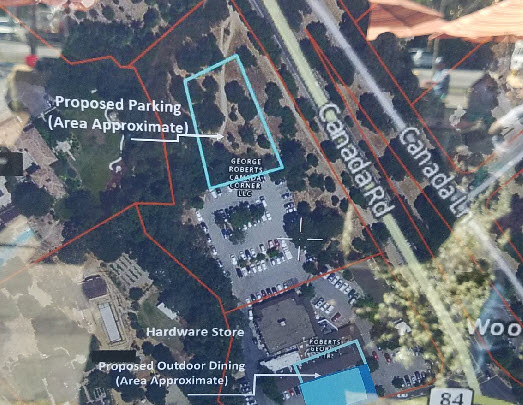 Map of proposed amphitheater in the Town Hall Area
●This would create significant conflict with the commercial properties in Town Center. The parking spaces were paid for by the property owners in the Parking District for many thousands of dollars each. Having outsiders and tourists filling them up for a rock concert is a violation of their rights.
●The traffic, noise and congestion caused by the attendees of the rock concerts will cause major problems and disturbance for the property owners.
●The nearby homes would also be harmed by the noise and congestion from rock concerts.
●Cutting down trees is not a Woodside thing to do.
●Removing the hitching rail would impact equestrians.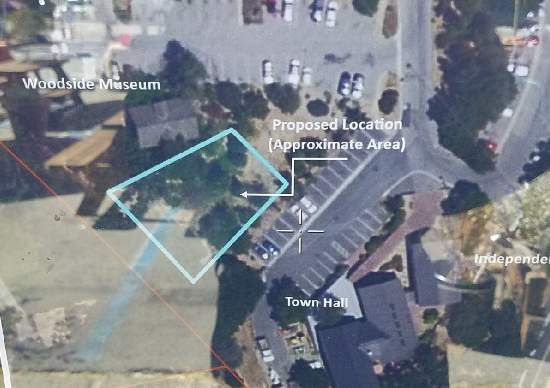 Website supported by Save Rural Woodside - No on Measure A