$$$ Money - Where is it from ? $$$
Contributions and Expenditures by the Proponents of Measure A
Why is Bacchus Management spending thousands of dollars on marketing, using paid employees to gather signatures, sending emails, soliciting callers seeking reservations, and in other ways to support Measure A?
Because: Measure A would remove the limitation of using residential property for commercial parking, and allow bulldozing of the open space to build a large parking lot. More parking in turn would allow significant expansion of the seating in the Village Bakery. They dangle the lure of Outdoor Dining, which is appealing to voters, but it should be clear that Bacchus's motivation is solely about expansion and MONEY. It is not about the welfare, benefit, or enjoyment of Woodside residents.
A little background on Bacchus Management: They are a very successful restaurant operator, with a number of well-known restaurants: Spruce in San Francisco, Selby's in Atherton, three locations for Pizza Antica and in of course in Woodside the Village Pub and the Village Bakery. They are well managed and were able to obtain funding of $960,600 from the federal government thru the Paycheck Protection Program.
They are not a struggling local owner/entrepreneur trying to keep their restaurant going, but a well managed corporate entity..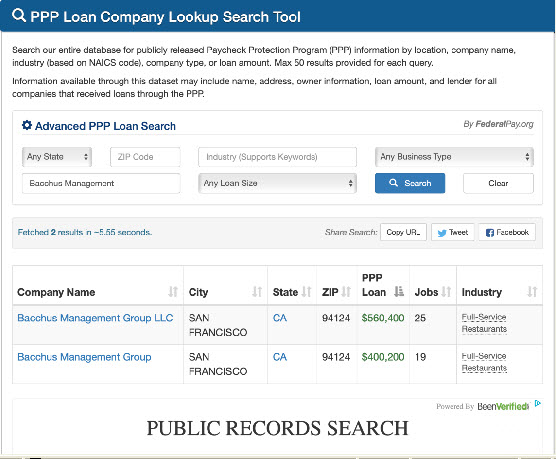 FPPC - Fair Political Practices Committee filings
The FPPC - Fair Political Practices Committee requires certain financial statements to be filed with the Town. These are a matter of public record and helps the citizens understand who is financing this. . There are two Form 460 Campaign Disclosure statements filed with the Town, that reveal $8,871 of contributions from those who stand to profit from the success of this measure. Bacchus Management is the owner of the Bakery and stands to significantly profit from the expansion of the parking. Why have no voters donated to support Yes on Measure A?
The opponents of Measure A (Save Rural Woodside -No on Measure A) are just concerted citizens worried about the future of the Town and have nothing to financially benefit from defeating it. All kinds of folks are jumping in wanting to support mailings, signs, banners, NextDoor and advertisements trying inform voters of the issues.

To view full 460_Financial_Report_Jan_to_Mar19 - Click Here

To View full 460 Financial Report July to Sept 19 - Click Here
What is this really about? Money. It is a ploy by the Bacchus Management, owner of Woodside Bakery, to bulldoze the open space lot to expand parking to allow more seats and to make more money. When the Bakery use permit was approved in 2016, the Planning Commission ignored the zoning rules, and allowed excessive seating capacity that exceeded parking needs by 15 spaces, which now causes the parking and traffic problems. Expansion beyond this is a violation of the general Plan because most of the Bakery customers are not local residents. Expansion will also further exasperate the traffic problems we have today.
Website supported by Save Rural Woodside - No on Measure A